Last fall I was doing some 6m MSK144 in the morning. I was able to hear stations all across the midwest every morning but rarely able to make contact with them. One day I got a call from Dave (KA1W), he had a line on a 6M tube amp. Fortunately the amp was nearby, it was over at the QRO King's place! So I arranged to go over to Lou's (W1QJ) and check it out. The amp he had was the RayTrack Horizon VI. It was in excellent condition and Lou had just given it a tune up. I bought it and got it on the air right away.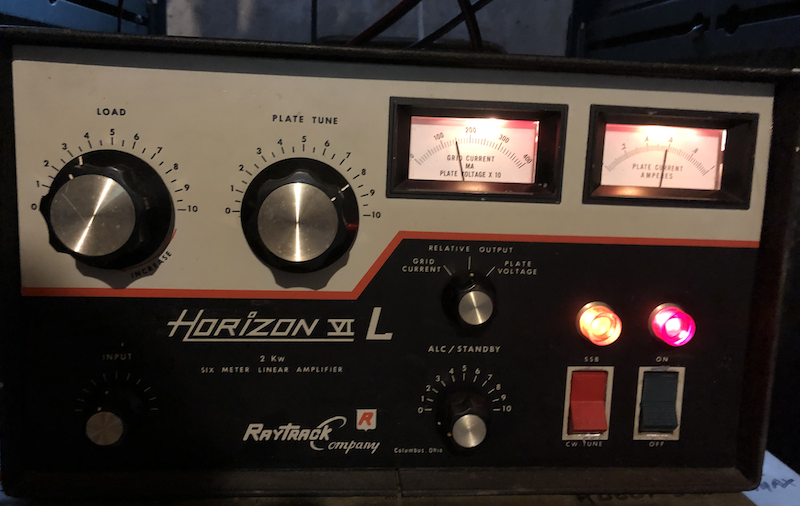 It performed better than I expected and all of a sudden I was able to work everyone I could hear! As I learned more about this amp I found out that it has quite a history! The previous owner of this amp was Lefty (K1TOL). If you don't know who Lefty is you should look him up. He currently sits atop the 50 MHz VUCC list with 1600 grids! The next closest is at 1276. This amp has made thousands of QSO's around the world and even off the moon with Lefty! It's also not stock. The original power supply was upgraded with a Peter Dahl transformer which really makes the pair of 3-500z's hum. The RayTrack seemed to have been a popular single band 6M amp in it's day. There is one in use at the W2SZ Mount Greylock Expeditionary Force super station which has the same mods as mine.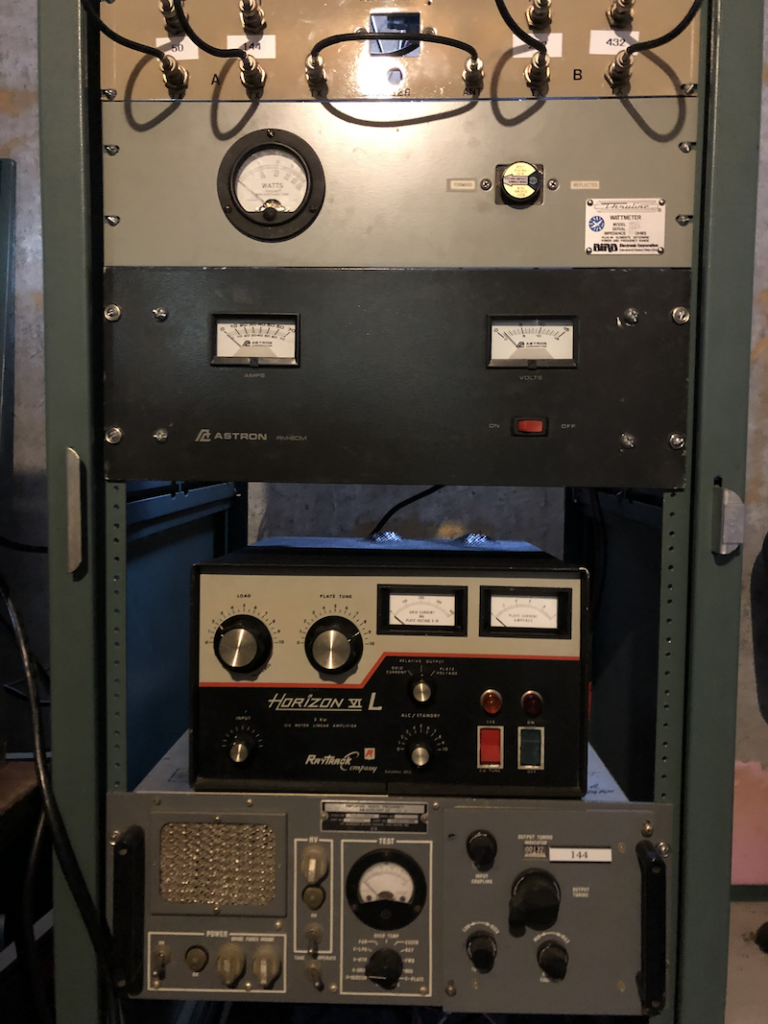 This amp puts around 1200W with 100W drive which is significantly more that it was originally designed to do. In addition to the transformer Lou had replaced a lot of older components. So I ran the amp during the Jan VHF contest and did well. Results are still not out at this point but it was one of my personal best contests. Then came the end of May and June. The propagation gods were smiling on us as 6 was open every day. It was crazy and I was working 10+ new grids a day. I actually completed VUCC on 6M using only FT8 in 3 months! I was working the west coast like it was a state or two over. Made a dozen QSO's with the Caribbean and South America all the way to Brazil. Life was great until one morning in June when I notice the SWR was high. I checked everything and determined that it was the amp. Of course this happens 2 days before the June VHF contest! So I called Lou and he had me bring it over right away. It ended up being a number of things that had to be repaired.
Lou was going to try to get it done for the contest but I had some family stuff going on that weekend so I told him to just finish it up when he had the time. His report was it started with a bleeder resistor that opened up and took out the associated filter cap. He replaced the filter cap and all the bleeder resistors. The glitch resistor opened up as well so it was also replaced. Lou reworked the tube area and replaced the chimneys with shorter ones from a Drake amp which gave him more room to positions things where it is less likely to happen again and fashioned new parasitic suppressors. Finally a piece of coax also needed replacing as it had a huge kink in it. It appears the foam inside actually melted. Bottom line is it looks like after running so much FT8 that solder on the parasitic suppressors melted. The solder dropped on the high voltage and that was the start of the problems. Lucky nothing too expensive was damages and the amp was ready to go better than ever for the second half of the contest. Lou did an amazing job! If you ever need any tube amp work done, especially on 6M don't hesitate to give Lou a call. http://www.qroking.com
I'm now making some upgrades and monitoring to the amp to hopefully keep to cooler and catch any issues before they get to the point they did this time. info on these mods will be posted soon.